Being convinced to go on the trip at the very last minute, there wasn't much time for me to be prepared for what a dive trip over the long bank holiday weekend encompassed. One thing was for sure: there would be a lot of diving.
We arrived in Weymouth in the late evening and to two wonderful haven caravans. We split ourselves between the two and prepared for our first day of diving.
It was relatively easy as the first trip of the year – a luxury hard boat took us from Weymouth Marina to the Black Hawk Bow. We jump in, turn on our torches, and follow the buoy down to find … nothing. Visibility was pretty much nonexistent at points. This was my first very low-visibility dive (less than 1m) and my buddy and I only communicated via torch. As this was supposed to be a wreck dive and we could not see any metal, I sent up a delayed surface marker buoy (DSMB) so the boat could keep track of us. 
After we surfaced, we decided that it was probably not a great idea to attempt another wreck, and therefore we were going to do a drift dive on the Lulworth Banks. Having never been on a drift dive, this was exciting and a little scary. We jumped in and again saw absolutely nothing but after a while, we were caught by the current and the seabed started flying by. This was also where I saw my first scallop – some members did catch a few on this dive while drifting by. (You can see their haul below!)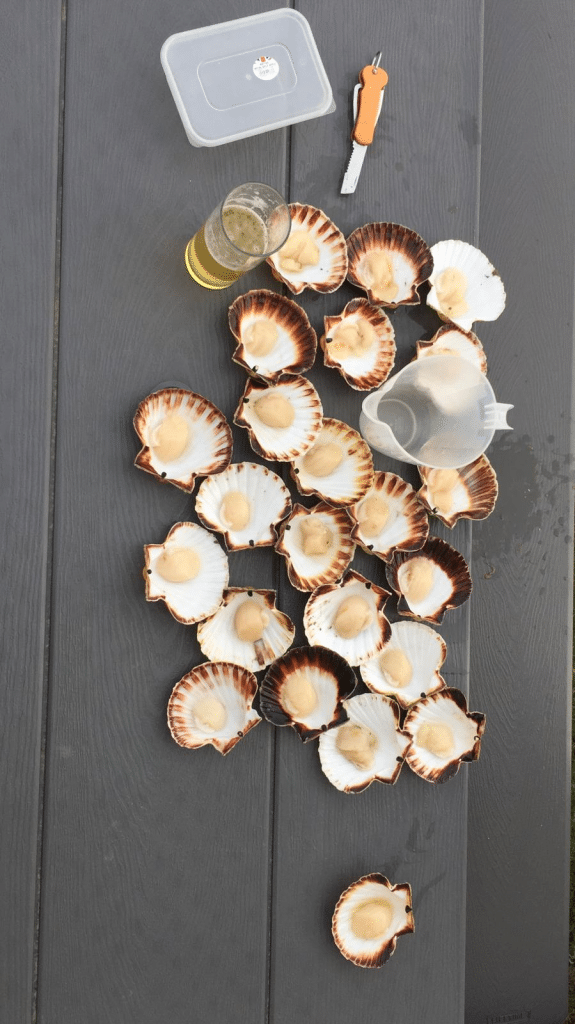 After surfacing, we sorted and filled all the cylinders, and some of us sped back to the caravans to shower due to our leaky "drysuits".
On the second day, we decided to attempt another wreck dive, more specifically the British Inventor. We went down the shot line and did manage to see a few glimpses of the wreck before not seeing much. I attempted a DSMB launch from just above the seabed, which went alright enough to be spotted. And here is a quote by me that quickly became infamous: "I don't kick up that much silt except when I'm at the bottom". I was trying to imply that I don't kick up much silt, except when I'm kneeling on the ground to deploy a DSMB, which backfired, as expected.
The fourth dive was on the Hartlepool wreck, where the primary objective was to hunt for as many scallops as possible. We saw various creatures, including eels and giant crabs caught in a trap. We were swimming around for a while, but just before we ended the dive we managed to stumble upon the wreck. Some of the rest of the trip participants decided it would be amusing to catch a few crabs and have them for dinner.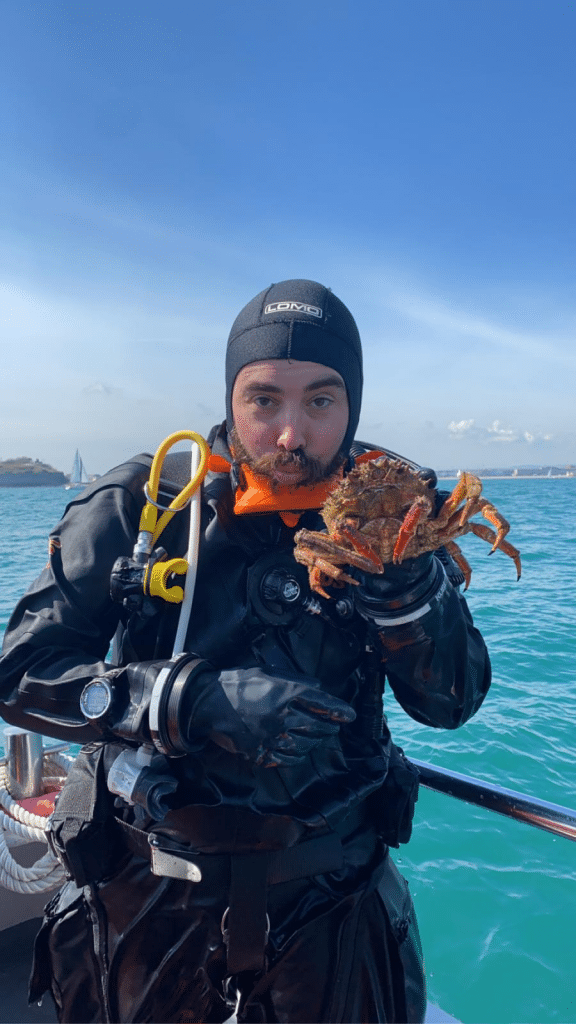 After the dive, we had some great pizza (saving the crabs for another day) and played some poker to end the day. (Another wet day for some of our "drysuit" wearing members).
On the third day, we thought it was fitting to dive as a three. Before that, we were visited by the RNLI (see below for some cool action shots). The fifth dive was near Lulworth Banks, not far away from Durdle Door. We were attempting to see marine life and we started on the reef. A little later in the dive, we encountered a cat shark or dogfish (I was shocked to learn they were the same).
Dive six was a fairly shallow dive on the Countess of Erne, which luckily for us, finally delivered some good visibility as well. We saw some small marine life and floated around the wreck, avoiding the overhang. We also saw some dolphins when we were back on the boat, heading back into Portland Harbour (unfortunately it was not caught on camera, therefore it did not happen).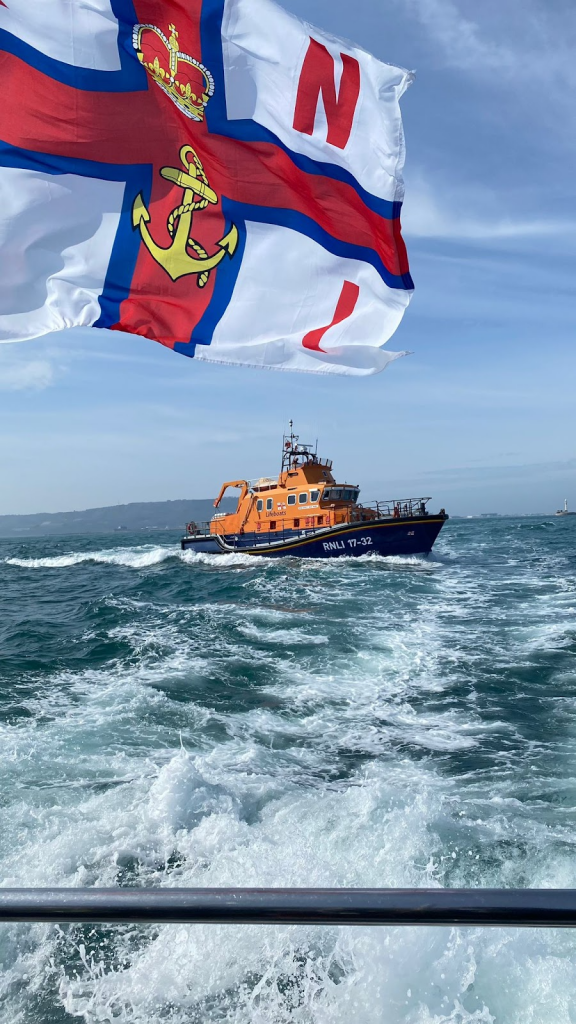 On the fourth day, due to the high wind speeds, it was only the club on the boat. The seventh dive was in Balaclava Bay, which we believed would be a wall dive. However, visibility and the current were not in our favour and it turned into a muck dive, with some never seeing the wall at all. After swimming around for a bit, I bumped into a rock that I went up on and then began ascending uncontrollably. Due to my rapid ascent, the dive was cut short and I thought it sensible not to dive the final dive.
The eighth dive was another wall dive, which was near the harbour. The visibility of the water with the sun makes it look like blue water (See Figure below).