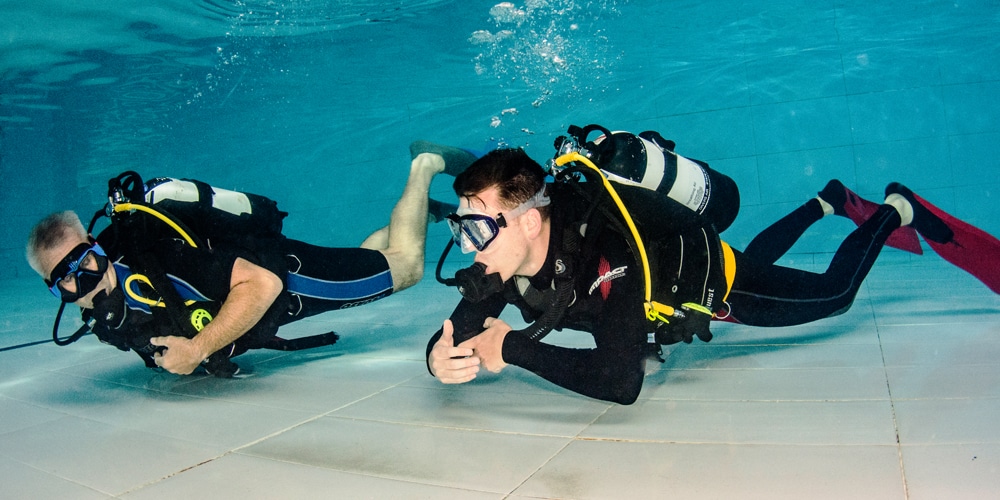 Not dived for a while? Going on a dive trip soon? Why not get your skills back up to scratch with one of our refreshers?

What skills do you cover?
We can cover any skills you like based on your current qualification. If there's something you'd particularly like to work on just let us know and we'll tailor the session to you.

A standard refresher for a diver with an entry level qualification would cover the following:
Time before the session to go over any theory requested by the student
Assemble kit
Pre-dive equipment check
Buddy check
Buddy communication and signals
Deep water entry
Snorkel and regulator exchange
Safe descent procedure
Proper weighting
Neutral buoyancy (hovering)
Finning technique (scissor kick and frog kick)
Remove and replace mask
Dealing with a free-flowing regulator
Switching between regulators
Regulator recovery
Alternate air source ascent
Quick release weights
Safe ascent method
Remove equipment in the water (deep water exit)
Dissemble kit
How much does it cost?
Please see our fees page for the latest prices.
What is your availability and how do I book?
We can do a refresher on most Tuesday evenings. To enquire please send Nathan an email on [email protected]
What do I need to bring?
Swimwear
A towel
Something to wear on top to stop the equipment from chafing. A shortie wetsuit is ideal but an old T-shirt would do just fine
A pound coin for the lockers
If you have any of your own equipment that you'd like to test in the pool then do bring it along. You don't need to bring any equipment though – we can provide everything.
Where is your clubroom?
We are based in Seymour Leisure Centre. If you tell the reception staff that you're there for scuba diving then they will let you through the barriers to the left. Go down the stairs to the left of the lift and start heading along the corridor. Just before the 2nd set of double-doors (about half way down the building) there is an open door on the left through which you will be looking straight towards our clubroom.
When should I arrive and how long does it last?
The clubroom is open by 7pm and you are welcome to join us then. Please try not to be any later than 7:15.
We have the pool from 8pm until 9pm.
After you've showered, dried and changed it will probably be 9:15 or so. You are then welcome, if you wish, to join the club members in a local pub to share your experience and talk about diving.
Do you issue PADI refresher certificates/stamps
No – as we aren't a PADI centre, we're a BSAC club.

We have a club stamp which we're happy to apply to your logbook and we can issue an unofficial certificate if you like.
While we thoroughly recommend refreshing skills before diving, you won't actually need to show any evidence of having done a refresher to go on a dive holiday. They'll just ask you how many dives you've done and the date of your most recent dive. I've dived all over the world and I've literally never had anyone ask to see my logbook.