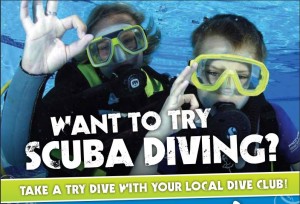 If you've never dived before come and have a go!
No experience or equipment is necessary – just let one of our qualified instructors take you on the start of your underwater journey…
Warning: your life may never be the same again!
How much does it cost?
Please see our fees page for the latest prices.
What is your availability and how do I book?
We can do a try dive on most Tuesday evenings. To enquire please send Nathan an email on [email protected]
I'm not a strong swimmer and/or not physically fit – does that matter?
These things help but are not required. The only thing you need is to feel comfortable in the water.
Do you do try dives for kids?
Yes – our minimum age is 10 years.

We have DBS checked instructors, but we do request that a parent or guardian is poolside to supervise the session.
What do I need to bring?
Swimwear
A towel
Something to wear on top to stop the equipment from chafing. A shortie wetsuit is ideal but an old T-shirt would do just fine
A pound coin for the lockers
A big smile is also recommended – but we can provide this!
Where is your clubroom?
We are based in Seymour Leisure Centre. If you tell the reception staff that you're there for scuba diving then they will let you through the barriers to the left. Go down the stairs to the left of the lift and start heading along the corridor. Just before the 2nd set of double-doors (about half way down the building) there is an open door on the left through which you will be looking straight towards our clubroom.
When should I arrive and how long does it last?
The clubroom is open by 7pm and you are welcome to join us then. Please try not to be any later than 7:15.
We have the pool from 8pm until 9pm.
After you've showered, dried and changed it will probably be 9:15 or so. You are then welcome, if you wish, to join the club members in a local pub to share your experience and talk about diving.
What should I expect from the session?
Your instructor will greet you and get to know you a bit. You will choose and set up the equipment together and then take it to the poolside. You can then change and have a briefing about how to use the equipment – but don't worry the instructor will be with you to help you every step of the way both above and below the water.

You will enter in the shallow end and gradually get used to the sensation of using the breathing apparatus until the point when you are comfortable enough to have your first few breaths under the water.
You are then off on your first ever dive!
We have the pool for an hour and your instructor will try to use this to give you a fun and rewarding experience.

After the pool session we debrief, dissemble the equipment, shower and change.

Hopefully you enjoyed your dive and consider doing a beginners' course.
My friend/partner would like to do it as well – could we do it together?
Yes of course – just let us know and we'll book you both in for the same night.
We'll give each of you your own instructor just to make sure that you are both safe and happy in the water.