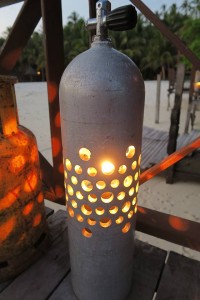 At the end of March I combined two of my great passions: traveling and scuba diving. While on a whirlwind of vacation in South East Asia I followed advice from a Malaysian scuba diver friend who insisted the best place to dive in the world was at Sipadan, off Borneo.
Sipadan was formed by living corals growing on top of an extinct volcanic cone that took thousands of years to develop. The huge pillar that forms the atoll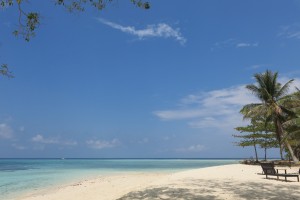 functions as a shelter for many sea animals and fish and this attracts the whole food chain even the biggest fish of the oceans to this area. Thousands of species of fish swim amongst the coral, an abundance of turtle species can be spotted and sharks are common visitors as well. It helps that Sipadan is a protected area, you cannot stay on the island itself and there are only 120 dive permits per day distributed to the dive operators in the area.
Operators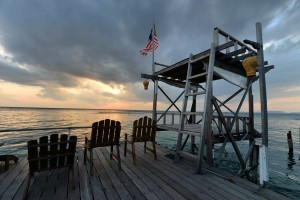 request you to dive with them for four days one of it is at Sipadan. Early booking is highly recommended. The non Sipadan dives are around Mabul Island and Kapalai resort. I found these dives to be superb too and conditions matched of those of Sipadan: 29 degress 12-20 meter viz and calm waters. The main difference is that there are sharks (grey reef and white tip) at Sipadan and the number of each specie you can see there. At one point we swam in a school of 2,000 big eyed trevally! I will not try to give a detailed list of fish names you can see in those waters. Some of the highlights were for me, in growing size order: a tiny seahorse hiding in a coral, a hunting flamboyant cuttlefish (this was quite an attraction!) and a hammerhead shark. I also saw for the first tim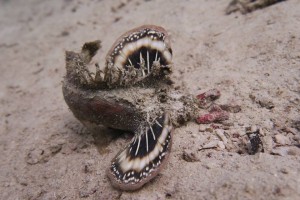 e octopus changing colour, crocodile flathead, orangutan shrimp, spiny devilfish to name a few. In times like this I wish I knew more fish names and was more observant!
All in all in my modest dive experience Sipadan and Mabul did live up to their reputation. I also liked and would recommend the dive operator I used: they were efficient, professional, environmentally concerned and locally focused. It was interesting to see that many dive leaders and indeed guests were from Scandinavian countries: apparently their governments do not discourage from traveling to the area. While security is a concern in the area in my view all the measures are there to keep you safe and sound and would recommend a visit to this paradise!