Following on from the fabulous trip to Swanage at the end of May (sadly no blog was available for that trip) we headed out to dive further west in Dorset.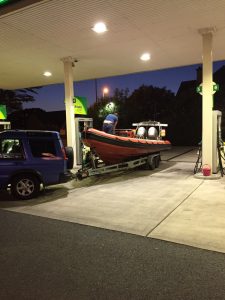 Even trying to fill us the Percy Too in the petrol station showed once again what a boat it is – filling from pumps on both sides of the aisle!
Anyway the next morning 9 of us headed a top speed to the bottom of Durdle Door for the well known tourist site – a stone arch on the Jurassic coat (see twitter/facebook for more pics) – you can just make it out on the left of this photo:
Barny did an underwater search to get his hand in for his advanced diver, while Igor did their first open water drysuit dive and Jack his first open water dive with No.1. With all dives a success, we had lunch and set off for the Alex Van Opstal. Which we shot near the bow, now sadly the first group got too hot before slack arrived and so at they went down the line it came off the wreck and they missed the site, however with the slot moved back up to the wreck the remainder had a great dive and even managed to pull up a few lobsters for the BBQ in the evening sunshine…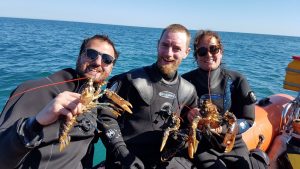 The next day saw the Aolian Sky as the go-to site for every boat in the area – 4 RIBs and 2 hardboats circled the site waiting for slack, but it's such a massive site that some pairs didn't see any other divers down there, while everyone explored the incredible site including some sighting of the mythical landrover wreckage.
The afternoon saw more high temperatures, and a dive on the Lulworth banks on the wreck of the British Inventor which was covered in both fish (Bass, Pollock etc) and scallops provided for some Sunday evening dinner (Nathan's Crab and Scallop risotto shown for example):
So that's all! Next up.. West Bay…