by Roberta Lenart
I spent April and May in Central America where I visited three countries that stretched between oceans: Panama, Costa Rica and Nicaragua. Of course while there I made time to test the waters in both Pacific and Atlantic Oceans.
Just a week after arrival to the continent I dived in Panama at Isla Cobia. It's part of the Coiba National Park off Santa Catalina by the Pacific. Santa Catalina itself is a fast developing village that is still relatively untouched by tourism. In the last couple of years the number of dive centres more than doubled to seven, the road got paved and there is an abundance of restaurants. It has the charm of a pre discovered paradise.

I organised my dive with one of the well-established dive centres. It was not cheap $650 for three days and two nights staying on the island in the ranger station with nine dives. The boat ride to the island was an hour and a half but once there all the sites were within 15 minutes. We had one dive guide between the six of us. In the Pacific there is no coral as it's too cold for that. Visibility was greatly different even within a single dive. It could have been as low as two meters but the norm seemed to be 12 meters. The best we had was around 15 meters. Current was strong occasionally.
Every single dive we experienced thermoclines. If you have never seen this it's hard to imagine it. The definition of thermocline is an abrupt temperature gradient in a body of water such as a lake, marked by a layer above and below which the water is at different temperatures. In this case it meant that the temperature dropped from 28 Celsius to around 13 Celsius. Very rarely it was hotter body of water. There is a visible difference between the water bodies so you always see it coming. Once I was swimming by it and put my hand in it to check the temperature. It was freezing cold so just swam by. Even if you have to swim through they never last long though.
As for fish life there was plenty to look at. We saw white tip sharks at almost every dive. There were rays, various eels, jacks, angelfish, snappers, puffer fish, surgeonfish, sea horses and a turtle. The most memorable things I saw was two massive lobsters fighting in a crack. They completely ignored us while pushing back and forth between the rocks. It was quite a sight.
I questioned some of the dive practices I saw like sending divers up on their own when they were low on air for the boat to pick them up. I got surprised to learn after a short sunset swim that there were salt water crocodiles in the water. No warning sign was on the shore or any mention of them until I was waved out of the water.
I was told the accommodation was going to be basic. That would have been fine it's the toilet tank that I had to fill from the shower until water ran out from there too that put me off the most. Overall I think two days would have been better use of mine time and money at Isla Coiba.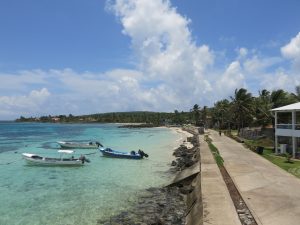 Topography, fish life and conditions were very similar to Isla Coiba in Costa Rica at Isla Caño. It was even more remote than Isla Coiba and harder to get to. Two dives cost $135 and dive time was limited to 45 minutes. They said it was to protect nature. There was a similar relaxed attitude toward safety and the dive guide was not bothered by the steady flow of small bubbles from his BC hose at all. During the first dive visibility was touch and go and most of us seemed to be preoccupied by flooding masks. The second dive was much more enjoyable. We swam under a big school of spotted grunt. There were so many of them it felt like we were swimming in a cave. It was dark beneath them. We also saw altogether over 10 swimming white tips, lobsters, various morays, tunas and a school of big eye trevally. It was a very good dive.
I left Costa Rica to the north to Nicaragua where I dived around the Corn Islands in the Caribbean. Flying is considered expensive $164 return. The alternative is cheap no more than $10 each way and includes a lengthy bus ride and then a boat and another boat and potentially rough seas. It can easily take up 36 hours to reach the Corn Islands. I value my time and comfort so it was really a no brainer for me.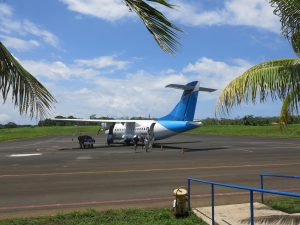 Diving around Little Corn was GREAT! The island itself can be walked around in three hours. There is no transport at any kind unless you own a bike and there are two dive centres only. There is a huge number of dive sites around the island but its manly the West that is dived due to weather. I bought a package of five dives for $150. All sites were within a couple of minutes boat ride and everyone was very professional. Coral was healthy and there was plenty to look at. Nurse sharks were regular. We did not see more than one on any dive and it usually followed us around. Maybe expecting to be fed a lion fish. They are invasive species without natural enemies and dive guides occasionally feed them to sharks. That was not the practice of the dive centre I dived with so missed that sight. Little Corn highlights included seeing eight big lobsters jammed in a small cave and there were quite a few really big sting rays. There were many other fish as well like parrot fish, angel fish, puffer fish and crabs of all shape. I had my 150th dive as an extra night dive over my dive package. One of the best dives I have ever had! We encountered a baby reef shark, green turtles, large eye toad fishes, bearded sea cucumbers, massive hermit crabs and my favourite a translucent Caribbean reef squid. With all the lights on it it looked like a rock star with white lights running around it against the black sea. When it had enough of us it was gone so quickly like it had never even been there.
I also dived on Big Corn. Just the one dive. It was similar to Little Corn only that was better but then I again it might not do justice to compare only after one dive.
My final dive during the trip was in Lago Apoyo in a volcanic crater back on mainland. It has five endemic species and hydrothermal vents. Interesting experience it was.
There were other spots I missed to dive but I believe I covered some of the best these countries have to offer. I hope I made you curios to visit some of these locations!