For the May bank holiday a few of us headed down to the Dorset coast to enjoy some fine weather, and get up close with some plankton bloom…!
We kicked off with a dive on the Arfon, a new site for the club (http://www.divernet.com/wreck-tours/p301720-wreck-tour:-88-the-arfon.html) which we managed to find pretty easily (near to the Aolian Sky) however sitting at around 35m it was extremely dark and murky so after short dives we returned to the surface with the intention of finding some shallower dives for the rest of the trip…
With the plan already in place to have a BBQ on the beach that afternoon the mission was to find some scallops to enjoy – we headed for a quick picnic in Lulworth cove and then dived the Black Hawk (where Alex and I saw a ray) and followed Keith's guidance on this site of 'swim South for scallops' – the result was mostly successful with the group picking up a dozen for our tea. We stopped off for some Dorset ice cream in Weymouth old harbour before heading back to Portland and stoking up the BBQ.

As we woke up to another day of blue sky with much better visibility above the water – the cliffs of the Jurassic Coast stretched out for miles – we headed for the Binnendjik (https://en.wikipedia.org/wiki/SS_Binnendijk) which sits at around 25m; she sank during WW2 and it appears was carrying a cargo of tyres, copper wire and lobster. This was a fine dive, enjoyed by all and being the 10m shallower than the day before the light was quite good – one to recommend!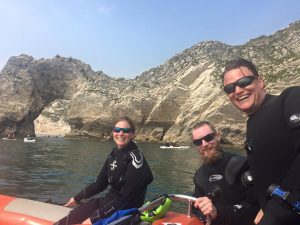 We finished the weekend with a fun drift across Lulworth banks, before heading home!
Barny