For many years I had heard of the diving at Tofo beach in Mozambique, both from South Africans that I had met, and from the tales of whale sharks told by other London Diver members Morgan and Hannah who had worked nearby at Barra.
At last Joy and I had the chance to visit this not-very-accessible place – it conformed to my belief that the best places in the world to visit (if you like remote) will take you at least 3 flights from Heathrow… We flew to Johannesburg, then on to Maputo and then finally to Inhambanne. When we got there after about 18 hours we could reclaim our bags in this baggage reclaim area: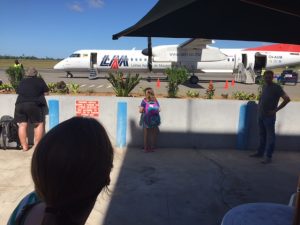 after all, even my hand baggage had been taken off me since there were essentially no overhead lockers to put it in!
We were based at Tofo Scuba (https://www.tofoscuba.com/) which was the original scuba center in the area (although there are now 5 as it's become so famous). The entire coast of Mozambique is hundreds of miles of perfect soft sandy beach which allows for some boat manouvers which would certainly not be encouraged on Chesil Beach…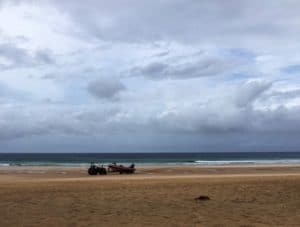 They have a tractor which drops the boat on the sand and then pushes it over the sand into the sea (no trailer at this point), then when you get back you just drive up the beach on full throttle…. Certainly saves time compared to all the slow approach to pontoons.
Anyway you are probably wondering what the diving was like – we did 4 days diving, 2 dives per day. All in the range 25-31m on Nitrox 30. There is a lot of life, with a huge variety of fish, turtles, coral etc water temperature was 24-26C when we were there in April. Here are few pictures that try to capture to density of fish: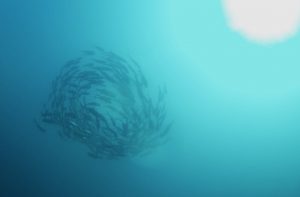 (circling kingfish)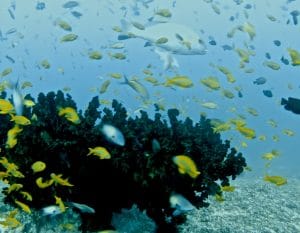 (pretty cool tree coral)
And then a few more novelty ones like this exceptionally well camoflaged frog fish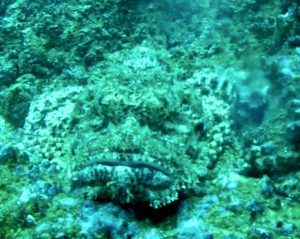 just look at the lips…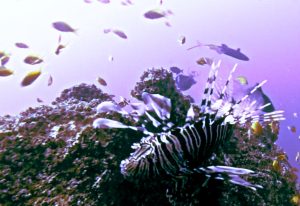 and a bit of lion fish action!
We also saw some reef sharks, and a pair of very interested devil rays that look rather like mini manta rays. Sadly we missed out on seeing manta rays ourselves despite a couple of dives on 'manta reef' but they group saw then on our last day (when we couldn't dive due to flying!!)
For those considering a trip, and hoping to see the megafauna the guide we had (born a bred in Tofo Beach) recommended August as the best month, since there are also humpback whales in the area, and perhaps more types of shark. It's worth noting that sadly the number of whale shark sighting in this area are quite a bit lower than they were 10 years ago so don't pin your hopes on that.. but the diving is cool and the people are wonderful as well so worth putting on the list!
Barny and Joy